The event started off as the Southend Vintage Bus Rally in 1974 it was held at Southchurch Park East off Lifstan Way.  The event saw a cavalcade of vintage busses actually go on a rally around the town.  The designated route saw the busses leave the show ground and travel up Lifstan Way—Southchurch Road—London Road—Chalkwell Avenue—First Avenue—Station Road—Cifftown Road—Nelson Street—Alexandra Street—Southend High Street—Pier Hill—Sea Front—Thorpe Bay Avenue—Woodgrange Drive—Liftsan Way.  Most of the busses attending took part in the road rally which took approximately 45minutes.
The rally saw the busses competing for a number of awards.
1.       The Southend Cup,
  The best overall vehicle.
2.       The Norman Richardson Memorial Cup,
  The best Bristol vehicle.
3.       The best double deck.
4.       The best single deck.
5.       The best modern vehicle.
6.       The Allen King Award.
  Travelling the furthest distance under its own power
7.       The best Ex-London vehicle.
8.     Special Award.
Dates of Event:
1st 1974
2nd Sunday 1st June 1975
3rd Sunday 6th June 1976 
4th Sunday 5th June 1977
5th  Sunday 4th June 1978
6th Sunday 3rd June 1979
7th 1980
8th Sunday 7th June 1981
9th  26th May 1982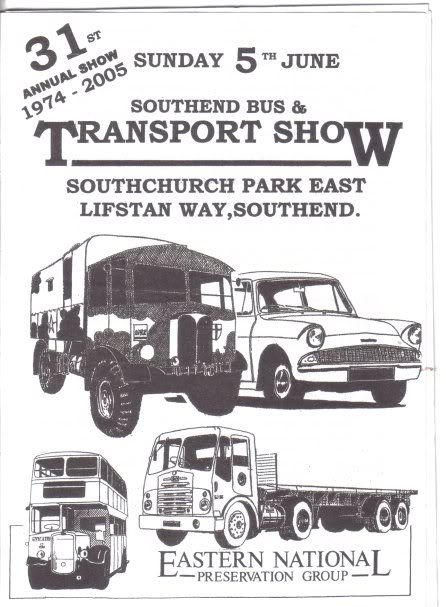 10th 1983
11th Sunday 3rd June 1984
12th Sunday 3nd June 1985
13th 1986
14th Sunday 7th June 1987
15th 1988
16th Sunday 4th June 1989
17th Sunday 3rd June 1990
18th Sunday 2nd June 1991
19th Sunday 7th June 1992
20th 1993
21st 1994
22nd Sunday 4th June 1995
23rd Sunday 2nd June 1996
24td 1997
25th Sunday 7th June 1998
26th Sunday 6th June 1999
27th Sunday 4th June 2000
28th Sunday 3rd June 2001
29th Sunday 26th May 2002
30th Sunday 1st June 2003
31th Sunday 6th June 2004
32st Sunday 5th June 2005
33rd Sunday 4th June 2006
The event proved hugely popular for many years with the rally running for some 33years before falling numbers of vehicles and begun to affect the viability of the event, then a hammer blow struck when in 2008 the Eastern National Preservation Group who organised and ran the event collapsed with the demise of the organising group the event was scrapped.
If you can help with any further details please contact me here: