Since 1804 very little development had taken place on the slopes, at the bottom sat a few wooden huts including Ingrams Hot Baths, a few shops and a cafe.
With the ever increasing number of people coming into Southend the area was looking tired and decrepit and was crying out for a major make over.
The Southend Corporation (Pier Committee) elected to sponsor a competition to have the sloping site alongside the Pier Toll House developed into a new attraction for the town.

At the closing date of the competition fourteen companies or individuals had submitted designs; the winning design came from Southend based architect James Thompson.

However the winning design was not progressed until December 1895, with building starting in 1896.
A number of disputes between the building contractor and the Corporation and problems stabilising the land caused a number of delays and increased the cost of the project. 
 The building project was opened in the Summer of 1898.

First Promenade: Photographic Studio, Clock Tower, Bandstand, reading room, shelter & several shops.

Seafront Promenade: Shops, Alcove Seats.

The new facility also included heated Sea water baths, restaurant, toilets, cloak rooms and waiting rooms. the final cost of the scheme was £14,675.

The bandstand and clock tower were demolished in the 1930's, these were replaced by another retail unit.
                   
Over the years the use of the facility would change regularly, the Southend Corporation used the building for its Tourist Information Centre and Pier & Fore
shore Offices, an aquarium was also opened in the arcade during the mid 1960's.

However the structure was becoming more difficult to maintain and the old problem of the stability of the cliffs and natural spring water courses running throughout the cliffs caused many problems, these eventually caused the closure of the buildings in the early 1970's.

The site was demolished in 1977 and landscaped to form the Pier Hill green however evidence of the sites previous use was evident as the top of the arched shop fronts could still be seen just poking above the hill.  Also still present was the two windows that looked into the swimming baths, these were found on the steps that run up the side of Jenny's Cafe they had been bricked and concreted over when the rest of the buildings had been demolished but the recesses had survived, the grand staircase running down the western side of the site was also demolished. 
                                    Two views of Pier Hill the curved wall at the top is the remains of the grand staircase whilst the arches are remains of the shops.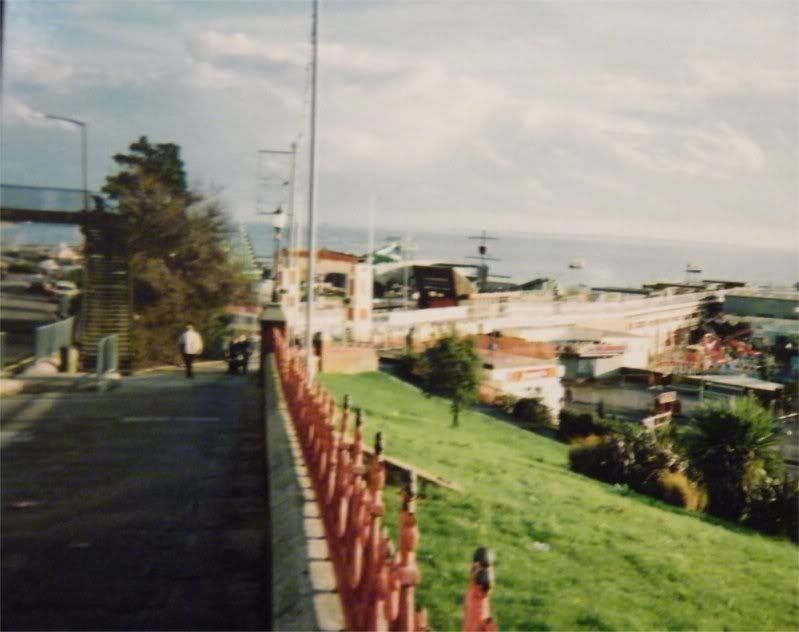 Looking down Pier Hill towards the Pier
"One Last Look"
A short video taking "one last look" at Southend's Pier Hill before it was rebuilt.