By the sea, By the church,
At the end of the Pier we will conclude our search.
And in the book our names will be penned,
A fitting tribute to our beloved Sarfend. (SouthendRoger)
 Read the comments as they are entered into the Sarfend Visitors Book 
The book signings of all book signings has arrived at the end of Southend Pier; forget Lord Sugar's autobiography; or Katie Price and 'her' latest novel; Southend has its own book and it needs you to do the signing.
Where did this all start?  Well, one early morning in September in Toulouse, a cafe on Western Esplanade, Southend Timeline's web editor met up with Brian Mendes who was here on holiday visiting his old haunts and of course his family. 
Now Brian is a sprightly 79, and currently lives in Kitchener in Ontario, Canada.  He resided in Southend up to the mid 1950's before emigrating.  But he would never forget Southend, so during this impromptu coffee, (especially for Toulouse they were not even open, but kindly agreed to furnish us with a drink), Brian after a good chat produced a small black book, entitled 'Sarfend Visitors Book' and asked if it could be left in a key place where other ex-pats and visitors near and far could go to and sign it.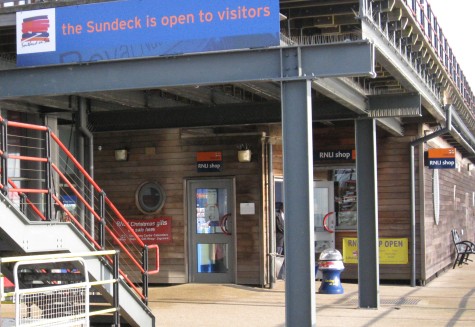 After much deliberation, and plenty of Southend's places were considered.  But finally where better than Southend's most iconic attraction the pier, loved by all. A suitable custodian stepped forward in the shape of the RNLI Gift Shop, managed by Dave and Ruth Burgess. 
With a home found for the book it was important to get the message out there and a fine collaborative synergy had already emerged between Southend Timeline and http://www.sarfendforum.co.uk/ indeed Brian contributed to this forum regularly as 'alamotex'.  After all, this excellent online talking-shop is for the benefit of Southend and has over 2000 members,  along with Southend Timeline's patronage too it did not take too long before a healthy buzz was starting about the book, so much so it was important to give it a high profile launch.
The date was set, Thursday 18th November 2010, the time agreed, 1pm and The Worshipful the Mayor Cllr Ann Hollland agreed to launch the book.  The only panic was how could we get Brian there, he had earlier returned back to Kitchener in Canada, after his holiday in the UK.  We considered a live internet link, but unfortunately the end of the pier did not make for the best connection to half way around the world.  Our thinking caps were firmly on.  In the meantime the regulars at http://www.sarfendforum.co.uk/, had on request delivered some brilliant poems to be used as part of the celebration:  
There was a young man of Sarfend.
Who met with an ex pat friend.
Who said ere  mate look.
Get em to sign this ere book,
We may even start a new trend

SouthendRoger

A couple who visited Southend
went on the pier to the end
she said to him
be sure not to fall in
or for the lifeboat I'll have to send

LeftSouthendBehind

On foot, or by train, to the end of the pier.
That is the place we hold dear.
With great fondness in our hearts.
It's the place we love to be.

Nick


Support the pier, let all of us shout it out loud,
as something we Soufenders can justly be proud.

The mile and a third backbone which embodies our town,
has been there longer than any living soul around

Mini-Spiv

Roll up, roll up !! please take a look
and write your memories in the vistor's book
a record of your stories of this amazing town
will last forever, and be passed down

Lorraine

Commemorate Southend all who sign here
The Visitors Book at the end of the pier
For those who visit and look around
the many facets of our wonderful town
And hope to see you again next year!

LeftSouthendBehind
Further excitement came when two artists, Madelaine Murphy and Gwen Simpson, from http://www.artistsmeet.co.uk/ agreed to work, at very short notice, on a creative cover for the book, so Brian's original black book had now grown into potentially something very special.